Getting Around by Public Transport
Prague has one of the best public transportation systems in the world.
Tram
The Prague tram network is one of the largest in Europe and offers convenient transport around Prague. Day trams provide transport between 5am to 12am, while night trams work from 12am till 5am in 30 minute intervals.
Bus
The bus network in Prague performs a secondary transport function. They come in 10-20 or 6-8 minute intervals in more frequented places. City buses serve Prague, whereas suburban lines also serve villages in the Central Bohemian Region.
Subway
The subway is the backbone of public transport in Prague. The system consists of three lines: A – green, B – yellow, C – red, on which trains run every 2-4 minutes during rush hours, and every 5-10 minutes in off-peak hours.
All tickets apply to all means of transport.
Choose the Right Ticket for Your Journey
How to Buy a Ticket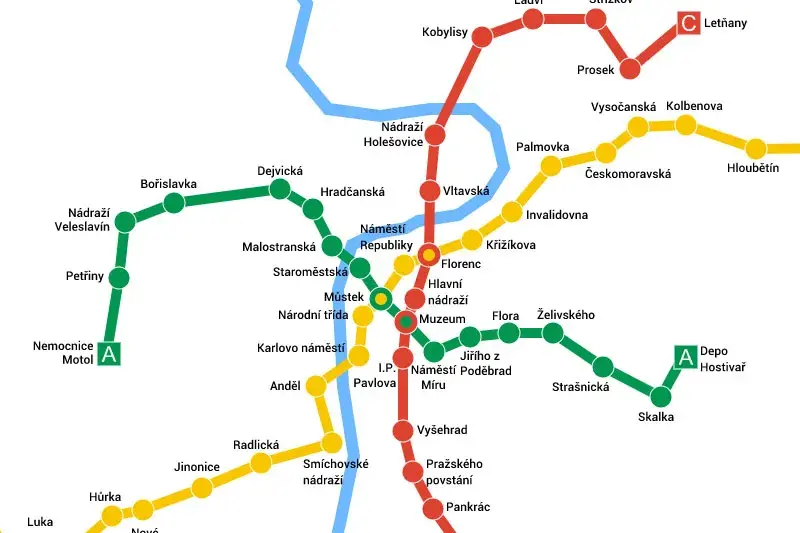 You can buy a paper ticket at vending machines or newspaper stands. Both can be found inside subway entrances. A half an hour ticket is recommended for a one way trip. This ticket is valid for all means of transport, even certain city boats, the Petřín funicular, and some trains. To validate the ticket, insert it into the yellow box found in every tram, bus and at subway entrances. You don't need to do anything when exiting.
If you have a SIM card registered with a local operator, you can use your mobile phone to purchase an SMS ticket. It is fairly easy. Everyone can do it and you can choose from several fare variants. Send an SMS with the text "DPT*price of your ticket*", (e.g. DPT32) to the number 902 06. Then, wait a few minutes for your SMS ticket.
Historic Tram Line No. 41
Hitch a ride on Historic Tram No. 41! These old trams, which operate on a hop-on, hop-off principle, connect the most popular tourist destinations around the city center. First put into operation in 1908, they are a great way to get around.